---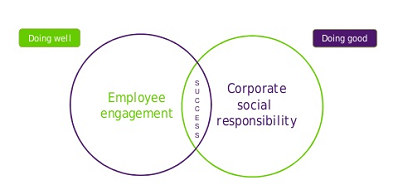 Abstract:
Businesses are powerful constituents of society and the most successful, respected, and desirable businesses exist to do much more than make money; they exist to use the power of business to solve social and environmental problems. The practices such as employee engagement in CSR are emerging in India. The Tata group's CSR initiatives are rooted in the knowledge that businesses have a duty to enable all living beings to get a fair share of the planet's resources. These initiatives encourage Tata employees to get involved in the community at large, mainly by contributing their time and skills for social causes.Volunteering helps to build various skills amongst employees such as work life balance, communication skills, team spirit, effective decision making and a sense of responsibility.
By contributing to self-progress, community and economy, the employee can make the world a better place. Employee engagement in CSR activities can become a USP (Unique Selling Proposition) which results in a strong brand image of a corporate.

Key words: Employee engagement, CSR, USP, Corporate, India

Objectives: The objective of the present paper is to highlight the significance of employee engagement to CSR initiatives. The study attempts to offer a perspective as to how the employee engagement in CSR activities can become a USP (Unique Selling Proposition) which results in a strong brand image of a corporate.

Research Methodology: The present research is a descriptive research based on the secondary data collected from various reports, research studies, news-papers, journals and websites.

Scope of Study: For the growth to be inclusive, the role of employees in CSR initiatives cannot be underestimated. Yet in India, we still lack a more complete understanding of why and how the talents of employees can be effectively used for CSR initiatives. This study explores the relationship between CSR and employee engagement by making it a USP to build a strong brand image of a corporate. The case of Tata Group's CSR initiatives involving employee engagement have been reviewed for this purpose.

Significance of Study: The present study will help Corporate, academicians, policy makers, other organizations and the society in general in understanding how a corporate can make a USP by engaging employees in CSR initiatives.

Limitation of Study: The study is purely based on secondary data and is restricted to making a USP by engaging employees in CSR initiatives. It mainly covers the CSR initiatives undertaken from 2014 onwards.

Introduction: Businesses are powerful constituents of society and the most successful, respected, and desirable businesses exist to do much more than make money; they exist to use the power of business to solve social and environmental problems. Corporate social responsibility (CSR) is a business approach that contributes to sustainable development by delivering economic,social and environmental benefits for all stakeholders.
Although the roots of CSR lie in philanthropic activities such as charity, relief work, etc. of corporations, globally, the concept of CSR has evolved and now encompasses all related concepts such as triple bottom line, corporate citizenship, philanthropy, strategic philanthropy, shared value, corporate sustainability and business responsibility.
Research at the individual level of corporate social responsibility (CSR) has been growing rapidly. Research on CSR and employee engagement is emerging to find if such initiatives become a USP which will result in a strong brand image for the corporate. There are a few studies that establish that there is a positive relationship between CSR and employee engagement.
In India the Companies Act, 2013 encourages companies to spend at least 2% of their average net profit in the previous three years on CSR activities. The CSR provisions within the Act are applicable to companies with an annual
turnover of 1,000 crore INR and more, or a
net worth of 500 crore INR and more, or a
net profit of five crore INR and more.
The practices such as employee engagement in CSR are emerging in India. As customers, employees, suppliers and the overall society more broadly place increasing importance on CSR, some leaders have started to look at it as a creative opportunity to fundamentally strengthen their businesses while contributing to society at the same time. They view CSR as central to their overall strategies, helping them to creatively address key business issues and at the same time have an actively engaged workforce. The Tata Group, an Indian multinational conglomerate which is well known for its effective CSR initiatives has undertaken these initiatives. Tata group's CSR activities are rooted in the knowledge that businesses have a duty to enable all living beings to get a fair share of the planet's resources. Tata Steel, Tata Consultancy Services and Tata Motors feature among the top 800 companies in the Global Dow Jones Sustainability Index 2016 as leaders in sustainable business practices. The Tata group has been ranked first in Asia in the 2016 Sustainability Leaders Survey for its efforts in advancing the sustainable development agenda.
Literature Review:
s
Glavas and Piderit (2009) found that the effect on employee engagement resulting from positive employee perceptions of CSR was strengthened by importance of CSR to the employee.
Glavas (2012) proposed that a reason for the positive relationship between CSR and engagement is that employees find greater meaningfulness and values congruence at work.Specifically, CSR allows for companies to go beyond formal values statements which tend to be words on paper to living out these values. This in turn sends signals to employees about the values of the company. To address the problem of low levels of employee engagement in the workplace, CSR is proposed and tested as a pathway for engaging a significant part of the workforce.
Maryam Hanzala Tariq (2015) assessed the relationship between CSR and employee engagement and found that Employee engagement will be significantly affected by CSR initiatives of the organisation. Engaged employees are more willing to actively participate in the CSR activities of the organisation.
Rosso et al. (2010) proposed CSR as a pathway through which employees can find meaning because they feel that they are contributing to the greater good.
Grant et al. (2008) found that the contribution to the greater good makes an employee feel good about themselves, thus improving their own self-concept resulting in greater organizational identification.
Case Study of Tata Group – Employee engagement in CSR initiatives.
The Tata culture:
The Tata culture of giving back flows from the tradition of nation and community building sowed more than a century back by Jamsetji Tata, the Founder of the group. The group operates in more than 100 countries across six continents, with a mission 'To improve the quality of life of the communities we serve globally, through long-term stakeholder value creation based on Leadership with Trust'. Tata Sons is the principal investment holding company and promoter of Tata companies. Sixty-six percent of the equity share capital of Tata Sons is held by philanthropic trusts, which support education, health, livelihood generation and art and culture.
Tata Group's Business performance:
In 2015-16, the revenue of Tata companies, taken together, was $103.51 billion. There are 29 publicly-listed Tata enterprises with a combined market capitalisation of about $116.41 billion (as on March 31, 2016). Tata companies with significant scale include Tata Steel, Tata Motors, Tata Consultancy Services, Tata Power, Tata Chemicals, Tata Global Beverages,Tata Teleservices, Titan, Tata Communications and Indian Hotels.
Many Tata companies have achieved global leadership in their businesses. For instance, Tata Communications is number1 international wholesale voice provider and Tata Motors is among the top ten commercial vehicle manufacturers in the world. Tata Steel is among the top fifteen best steelmakers and TCS is the second largest IT services company in the world by market cap and profit. Tata Global Beverages is the second-largest tea company in the world and Tata Chemicals is the world's second-largest manufacturer of soda ash. Employing a diverse workforce in their operations, Tata companies have made significant local investments in different geographies. These companies collectively employ over 660,000 people.
In tandem with the increasing international footprint of Tata companies, the Tata brand is also gaining international recognition. Tata companies bring to their customers worldwide a whole host of reputed brands which touch their lives every day. Brand Finance, a UK-based consultancy firm, has valued Tata's multi-brand portfolio at over $23 billion in 2016. With its pioneering and entrepreneurial spirit, the Tata group has spawned several industries of national importance in India: steel, hydro-power, hospitality and airlines.
The CSR approach of Tata Group:
The group believes corporate social responsibility (CSR) is a critical mission that is at the heart of everything that it does, how it thinks and what it is. The Tata group is committed to integrating environmental, social and ethical principles into the core business, thereby enhancing long-term stakeholder value and touching the lives of over a quarter of the world's population. The group's CSR programmes aim to be relevant to local, national and global contexts, keep disadvantaged communities as the focus, be based on globally-agreed sustainable development principles and be implemented in partnership with governments, NGOs and other relevant stakeholders.
In what could be the highest CSR spend by an Indian conglomerate, the Tata Group spent Rs 1,000 crore on corporate social responsibility (CSR) in 2013-14. Four Tata Group companies have secured top 10 Rank in CSR for 2 nd consecutive year in Economic Times Survey as per the report published on September 15, 2016. Tata companies are involved in a wide variety of community development and environment preservation projects. The Tata group's social activities relate to health, primary education, skills training and entrepreneurship, livelihoods, women empowerment and strengthening services for the differently-abled. The CSR approach adopted envisages that the group evolves and executes strategies to support communities in partnership with governments, civil society and relevant stakeholders.
Tata companies work towards empowering people by helping them develop the skills they need to succeed in a global economy through:
Engagement of other agencies
Employee engagement
CSR activities through engagement of other agencies:
Tata Strive:
Under this the communities are equipped with information, technology and the capacity to achieve improved health, education and livelihood outcomes.
CSR activities in Tata group through Employee Engagement:
Giving back to the society is at the core of the Tata business model and forms the foundation for group-wide employee volunteering initiatives that aim to touch a quarter of the world's population by 2025. Key to this approach is Tata employees who generously give of their time, experience and talent to serve communities; group companies encourage and facilitate them to do so. Tata group ensures the valuable employee contribution through its programme Tata Engage.
Tata Engage:
At the group level, the Tata Engage programme builds on the tradition of employee engagement in CSR. It is a volunteering programme, organised by the Tata Sustainability Group (TSG), that aims to encourage Tata employees to get involved in the community at large, mainly by contributing their time and skills for social causes. It is amongst the top 10 corporate volunteering programmes in the world. What makes Tata Engage a unique platform is the way it acts as a multiplier force to create win-win solutions that positively impact all the participants — the volunteers who get to meet new people and learn about new community projects, the companies which are able to focus resources and share best practices, and the partner nonprofits that are able to achieve greater impact. 'Be the change' is what Tata Engage encourages, even as it helps connect Tata employees and companies with worthy causes that need support.
How does Employee benefits for volunteering
Work life:
It integrates different work and life drivers and helps in balancing our professional and personal space. It also provides a direction and purpose to our life. It enhances an ability to work under pressure and under strict deadlines.
Community:
It makes employees a responsible citizen, especially in the communities they are involved, where they can share the concern and also influence the community for a better tomorrow.
World Altruist:
Social responsibility is one of the highest levels of emotional experience. It demonstrates that the employee really care about others, especially those less fortunate. By contributing to self-progress, community and economy, the employee can make the world a better place.
Security:
By volunteering, employees are experiencing Workplace Safety, Physical and Emotional Wellbeing and also Financial Rewards which will also help them to motivate others to join. Belonging: Employees in large organisations, usually lack a sense of belonging towards their organisations. By volunteering for activities such as interacting with underprivileged students- can go a long way in learning how to manage someone else's emotions and expectations which is a handy skill for team management at work by contributing to the community, the employees achieve self-identity and connect with other employees at the workplace.
Expertise:
Companies are looking for more than just the qualifications and experience before they hire a candidate. Latest research and trends suggest that interviewers ask for specific examples of when interviewees have worked with a team to overcome a challenge& thought outside-the-box to solve a problem. These competency-based questions may be tough to answer without experience in the real world. But, as it turns out, volunteering helps in this area as well. Volunteering work often involves raising awareness and reaching out & convincing audiences of how much the programme or cause will benefit their lives. When an employee is made responsible for disseminating information, his communication skills get improved. With volunteering, employees learn to be flexible and accommodate differing viewpoints, both very important skills when working in teams. It involves celebrating success of the team and the individuals; it involves regrouping after a failure and not playing the blame game. It involves accommodating all viewpoints to achieve what the team has set out to achieve. Employees enhance their competencies and expertise during their volunteering stints. It also helps them to deliver results and attain career progression. Volunteering gives a taste of the corporate decision-making process and allows to learn how to deal with the consequences of decisions.
Self-Actualisation:
The most effective components of social responsibility involve a personal contribution to a worthwhile cause. The employee understands his own potential and learns to be reliable. Volunteering helps to learn to fight internal demons and come out strong. The employee can learn to effectively balance emotions and the difference between being assertive and aggressive. When employees are engaged with the external community, at the same time, they are also exploring themselves. They are exploring their own potential on multiple dimensions, including emotional, intellectual and physical.
Employee engagement in CSR activities: a USP which results in a strong brand image of a corporate:
The managerial expertise of employees of good companies like Tata, if used to resolve social problems, it can be more efficient on the parameters of quality, cost, delivery and time. This not only gives satisfaction to employee due to "selfless giving (Paramartha)" and "donate (Dana)" (both emphasized by the Indian culture) but helps society at large as these employees optimize resources and give multifold results. If the same social problems are addressed and resolved through government agencies then there is a drain on resources and the benefits are not likely to reach bottom of pyramid where it should have reached.
Corporate Social Responsibility (CSR) is all about stakeholder accountability, transparency in all dealings and sustainability. All this creates a good business image in the minds of the stakeholders and helps companies build trust. It is crucial for brands as it helps to attract and engage with customers on a continuous basis.
It is important for the corporates to go about establishing the unique position of their brands in terms of quality or service or credibility in the minds of consumers and other stakeholders.
The USP emerges from the holistic efforts of the corporate by involving its stake holders. It is hence being effectively achieved by involving the employees who are important stakeholders and an inherent part of the business.
Several human resource studies have linked a company's ability to attract, retain and motivate employees with their CSR commitments. Interventions that encourage and enable employees to participate are shown to increase employee morale and a sense of belonging to the company.
With CSR, companies establish themselves as good corporate citizens. When a company can directly influence a problem or work towards a solution, by engaging its own talent pool of employees, it helps build a reputation. Such CSR activities in conjunction with regular branding activities can play a hugely influential role in impacting peoples' perceptions of a company, product or service.
Employers want employees who will do their best work to help the company achieve its objectives. Employees want good jobs that are challenging and meaningful. Employee Engagement in CSR aims to create this win-win situation for both employees and employers.
Evidence suggests that an engaged workforce reflects decreased absenteeism, turnover, production costs, and counterproductive behavior. It also indicates increased customer satisfaction and loyalty, revenue growth, flexibility and productivity.
Corporate social responsibility (CSR) can benefit companies through promoting a positive public image while creating a workplace with satisfied employees, happy customers, and lower costs.
Suggestions for effective involvement of employees in CSR initiatives
A corporate or brand's reputation is only as good as what exists in the public mind today. Maintaining it requires consistent and committed efforts which may be challenging as the business grows and other complexities demand more attention, subjecting the brand to vulnerability. By understanding stakeholder expectations, the organisations must therefore make it a regular practice to evaluate and pre-empt regulatory influences and pressures.
The ability to seamlessly combine brand building and strategic CSR through employee engagement should therefore not be confined to any specific departments within an organisation. Rather, it should be integrated into the processes and systems and be continuously evaluated and actively managed from within.
CSR should dictate the way the company operates and employees should truly feel empowered to get involved in relevant initiatives. This might often involve giving staff time off work, over and above their usual holiday allowance, so that they can support a chosen charity or good cause.
The institutional framework needs to be developed under which employee volunteerism can be channeled for a larger good.
It is important to encourage the employees with unique experiences and backgrounds to work together to increase productivity, effectiveness and responsiveness to changing conditions to enhance their contribution and benefit from the volunteering exercise.
Rewards and recognition are required to be designed to distinguish and motivate employees. This is important in the case of volunteering where employees do not have any financial incentives.
Conclusion

CSR initiatives focus on the relationship between the organization and society. The employee engagement in CSR has been observed as a motivational factor for employees. As a result, the individual benefits, the organization benefits, and society benefits. The employee engagement in CSR, has become a USP for corporates which can help them to achieve a strong brand image. The Tata group is committed to integrating environmental, social and ethical principles into the core business, thereby enhancing long-term stakeholder value and touching the lives of over a quarter of the world's population. Key to this approach is Tata employees who generously give of their time, experience and talent to serve communities; group companies encourage and facilitate them to do so. Going forward, Tata companies are building multinational businesses that seek to differentiate themselves through customer-centricity, innovation, entrepreneurship, trustworthiness and values-driven business operations, while balancing the interests of diverse stakeholders including shareholders, employees and civil society. Volunteering helps to build various skills amongst employees such as work life balance, communication skills, team spirit, effective decision making and a sense of responsibility. By contributing to self-progress, community and economy, the employee can make the world a better place. Employee engagement in CSR activities can become a USP which results in a strong brand image of a corporate.

References:

Glavas, A. and Piderit, S.K. (2009) How Does Doing Good Matter? Effects of Corporate Citizenship on Employees. Journal of Corporate Citizenship, 2009, 51-70.

http://dx.doi.org/10.9774/GLEAF.4700.2009.wi.00007

Glavas A. (2012). Employee engagement and sustainability: a model for implementing meaningfulness at and in work. J. Corporate Citizensh. 46 13–29. 10.9774/GLEAF.4700.2012.su.00003

Grant A. M. (2008). Does intrinsic motivation fuel the prosocial fire? Motivational synergy predicting persistence, performance, and productivity. J. Appl. Psychol. 93 48–58. 10.1037/0021-9010.93.1.48 [PubMed] [Cross Ref]

Lulu Raghavan & Ruchi Gunewardene September 20, 2015, Branding and CSR go together Maryam Hanzala Tariq, February 2015, Effect of CSR on employee Engagement, Indian Journal of Science and Technology, Vol 8(S4), 301–306, Rosso B. D., Dekas K. H., Wrzesniewski A. (2010). On the meaning of work: a theoretical integration and review. Res. Organ. Behav. 30 91–127. 10.1016/j.riob.2010.09.001

http://www.business-standard.com/article/management/branding-and-csr-go-together-115092000722_1.html https://www.ncbi.nlm.nih.gov/pmc/articles/PMC4886691/ https://www.pwc.in/assets/pdfs/publications/2013/handbook-on-corporate-social-responsibility-in-india.pdf http://www.tata.com/article/inside/Engage-to-empower http://www.tata.com/article/inside/leading-sustainably http://www.tata.com/sustainability/articlesinside/corporate-social-responsibility http://www.tata.com/aboutus/sub_index/Leadership-with-trust

Publised on: 27-02-2020